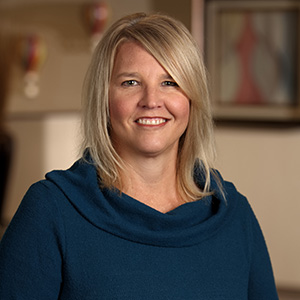 JoAnn Green
Physical Therapist
Jo grew up in Southwest Iowa and has lived in Iowa her whole life. After graduating from Clarinda High School in 1986, she completed her undergraduate degree in Psychology at Iowa State University. Jo graduated with her Masters in Physical Therapy from the University of Osteopathic Medicine and Health Sciences in Des Moines which is […]
Jo grew up in Southwest Iowa and has lived in Iowa her whole life. After graduating from Clarinda High School in 1986, she completed her undergraduate degree in Psychology at Iowa State University. Jo graduated with her Masters in Physical Therapy from the University of Osteopathic Medicine and Health Sciences in Des Moines which is now known as DMU, in 1993.
Jo has worked in Women's Health since 2002. She has trained under Women's Health experts, Hollis Herman and Kathe Wallace. This includes biofeedback training, treatment of urinary incontinence as well as other diagnoses including pelvic pain, constipation, fecal incontinence, pregnancy-related problems, postpartum care, and pelvic floor dysfunction.
Jo has combined her passion for physical therapy and women's health issues to become a leader in women's health care. Her desire to educate others is evident as a DMU preceptor since 2014, and Mercy WOCN preceptor since 2013.
Jo and her husband, Rich, have two children, a mini Goldendoodle, and live in Urbandale. In her spare time, she enjoys running, traveling, reading, and cheering on the Cyclones.