Our Priority Is You And Your Baby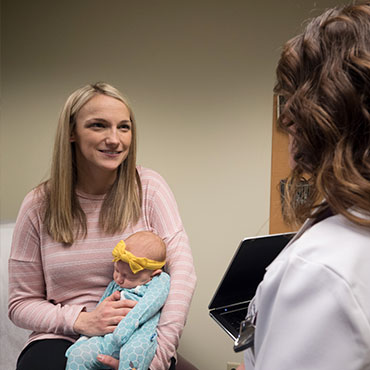 What an exciting time in your life! Whether you're trying to become pregnant for the first time or are expecting another child, we're here to help you all along the way. We'll always put your needs first and develop the appropriate care plan for you. From preconception counseling to monthly check-up and birth to breastfeeding, not only will we take care of your body but your mind as well.
During pregnancy, your Obstetrician will recommend monthly visits initially, with interim visits added, if necessary. Later in pregnancy, the doctor will increase visits to every other week, then during the last month appointments will occur every week. Ideally, visits will alternate between the doctors and nurse practitioners so that you will be familiar with each doctor that may potentially be delivering your baby. All physicians in our group share "call" and perform deliveries on a rotating basis.
Many well-meaning friends and relatives will offer advice to you throughout your pregnancy. Remember, while their support is most helpful and desirable, the advice to follow is that which you receive from your physicians and nursing staff. If questions arise don't hesitate to refer to our Obstetrics FAQs page.