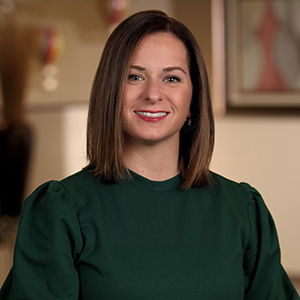 Jen DeVore
Nurse Practitioner
Jennifer was born and raised in Iowa. After graduating from AGWSR High School in 2004, she completed her Associate Degree in Nursing from Hawkeye Community College in 2006. Jennifer began working as a nurse in labor and delivery while completing her Bachelor of Science in Nursing from University of Iowa in 2009 and then her […]
Jennifer was born and raised in Iowa. After graduating from AGWSR High School in 2004, she completed her Associate Degree in Nursing from Hawkeye Community College in 2006. Jennifer began working as a nurse in labor and delivery while completing her Bachelor of Science in Nursing from University of Iowa in 2009 and then her Master of Science in Nursing from Graceland University in 2012. She is board certified by the American Association of Nurse Practitioners as a Family Nurse Practitioner.
Jennifer has advanced practice experience in family practice, retail health and women's health/family planning services.
Jennifer has served as a board member for Iowa Nurse Practitioner Society since 2017.
Jennifer and her husband reside in Ankeny with their two daughters. In her free time, she enjoys family activities, trips to the lake, listening to audiobooks and trying new recipes.